Other sites holding


Regional Geo-Informational System (RGIS)
Regional Geo-Informational System is designed for providing access of public authorities and local administration of the region, economic entities and citizens to basic and sectoral spatial data, their effective use (including those for cross-sectoral interaction and transition to provision of state and municipal services in e-form).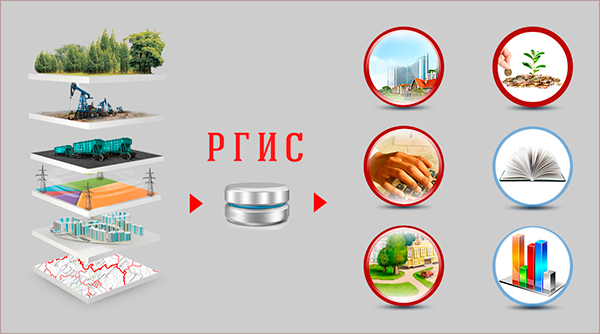 Implementation of RGIS is due to objective needs of citizens, organizations, public authorities and local administration in use of trustworthy and up-to-date spatial data.
Creation and introduction of RGIS will make it possible to effectively solve tasks before executive public authorities of the region and local administration in the following directions:
creation of investment openness and attractiveness of the region by organization of a single information area of data on municipal formations and the region, as a whole;.
development of a system of inter-sectoral electronic interaction between the public authorities of the region and local administration, as well as federal executive bodies (EMERCOM of Russia; Russian Register; FTS of Russia; MIA of Russia; Ministry of Transport of Russia, Rospotrebnadzor, etc.) for provision of availability, quality and promptness of execution of state (municipal) functions, provision of state (municipal) services to citizens and organizations in the territory of Novosibirsk region;.
increasing the quality and effectiveness of solving of governance tasks with the use of effective informational technologies by providing access to trustworthy and complete, space-oriented information for increasing the quality of life of the population;.
reducing the risk of taking of illegal governance decisions by informational support of the decision-making process;.
reduction of administrative barriers in activities on management of territory and real estate management;.
increasing informational openness and transparency of activities of public authorities of a subject of RF and local administration;.
effective inter-sectoral interaction on the basis of geo-informational technologies;.
increasing effectiveness of register and storage of legally important data;;.
provision of growth of the tax base for property taxes (land tax, property tax and, as a consequence, real estate tax) by detecting unregistered tax objects within the framework of monitoring of land lots and capital construction objects;.
increasing effectiveness of use of state and municipal property;.
creation of a system for control of the process of adoption and execution of solutions on creation, management and disposal of the resources of the region, by providing openness of information for the region administration;.
provision of life safety of the population;
informing the population of the grounds for and anticipated results of the decisions taken;.
carrying out measures on territorial planning of the region in accordance with requirements of the legislation with minimization of risks of taking illegal decisions on the regional and municipal levels;.
increasing promptness of response of emergency services in the field of road transport and other emergency situations on roads of the Russian Federation;.
provision of work of the regional navigation and information centre.