Other sites holding


Real estate economy of a subject of RF /municipal formation/enterprise
KPI Holding offers its services on development of measures on modernizing the system of land and asset complex management in order to increase the economic and investment potential of a territory. Within the framework of the given direction we have gathered the following tools for effective land and asset complex management both in interests of public authorities and local administration and in interests of business:
inspection (audit) of the real estate economy system;
development of a plan of activities (a road-map) for development of land and property relations;
development of measures on organizing the public cadaster assessment system;
development of scenarios of introduction of real estate tax;
development of a set of measures on implementation of the economic potential of a territory as regards property taxes, rent and privatization;
analysis of economic consequences and forecast of property taxes and rent as a result of introduction of town-panning solutions;
optimization of tax/rent payments based on updates (contestation) of the cadaster costs.
Expected results:
Preparation of a presentation of an innovational model for land and asset complex management on the federal level.
Development of a road map and attraction of federal resources for implementation of measures.
Preparation of regulation and methodological documents corresponding to Federal novations.
Development of the public cadaster assessment system.
Preparation of a middle-term scenario forecast of property tax revenues and charges (increasing in 5 years not less than 2 times).
Ensuring introduction of a real estate tax.
Analysis of consequences of adoption (implementation) of town-planning solutions on the example of one urban settlement.
Advanced training of specialists to the level of modern requirements.
Increasing effectiveness of taking administrative solutions by automation on the basis of a single information resource.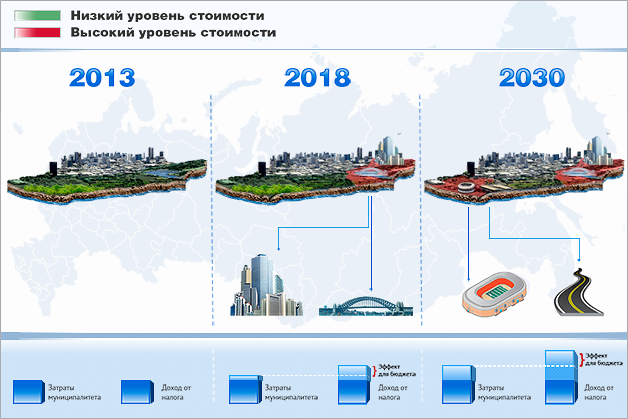 You can read the detailed description of the products offered in the following presentations: