Other sites holding


Venture market factors
Factors of venture investments market growth in modern Russia are, first of all, IT and consumer markets. In these spheres most beginning projects realize the need for venture investments and look for ways of own monetization, understand importance of new qualitative knowledge receiving, and venture funds, in turn, clearly imagining future cash flow. Besides, the Russian market is characterized by considerable internal consumption of these services: the B2C market in Russia is much more open today, than B2B. As a result about 9/10 of all investments belonged to these sectors in general in 2010-2012. Thus by 2013 a small increase of financial services and health care share was marked, and it is possible to call it the first positive signal for the market diversification beginning.
Thus the state remaining the key market player is also interested in innovations and venture in other spheres: industry, materials science, biotechnologies, space exploration and so forth. Due to the increase of investors interest to the companies of not only the IT sphere consumer, but of industrial profile innovations also the level of other this market participants will develop: universities, research laboratories, profile institutes. The state creates infrastructure elements (business incubators, accelerators, venture funds, etc), develops financial support programs (grants of the President and the Government of the Russian Federation, support of basic researches Fund, Fund of perspective researches, various scientific funds, RVK etc.) and creates the educational complex in the field of innovations.
Despite of a set of positive factors, in 2014 the difficult foreign policy situation and the international sanctions weakened considerably the venture market — the maximum transactions quantity was marked in February (74), but reduction was marked further, and during March-August the average number of transactions during a month equaled to 29. A strong recession in May was due to holidays and amplifying isolation of Russia and the recession in August became the result of the situation aggravation.
Schedule. Dynamics of venture transactions number by months in January, 2013—August, 2014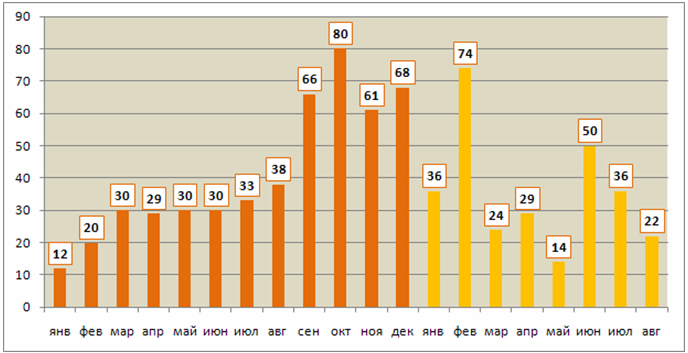 Source: RusBase

The venture market forecast for autumn was also negative, and good results of autumn 2013 repetition is hardly possible. The situation is influenced by serious foreign policy uncertainty and stagnation of the economy which is followed by the demand reduction and pessimistic moods of analysts. As a result, investors determination at own risks reduction, conservative policy conduction and work on the projects already existing in the portfolio.