Other sites holding


Dynamics of foreign investments with the "minus" sign
Investments, according to the definition given in the Law "About Investment Activity in the Russian Federation Carried Out in the form of Capital Investments" represent "the money, securities, other property, including the property rights, other rights having a monetary assessment, put in business activity objects and (or) other activity for profit receiving and (or) other profit achievement".
Investments can represent the funds of both Russian companies and citizens, and foreign legal entities and individuals. Foreign investments attraction is one of numerous forms of projects financing.
Dynamics of foreign investments into the Russian economy since 2009 was negative. The exception was 2012 due to investments growth into the most capacious branch in this sense — mining — by 4% (or 3,8 billion rubles). It is interesting that the most active foreign investments growth during a year was marked in the second or third quarters. In the first and fourth quarters, as a rule, investments decrease.
Schedule 1. Dynamics of foreign investments into all branches of the Russian economy by quarters in 2005 — the 2nd quarter of 2014, million rubles.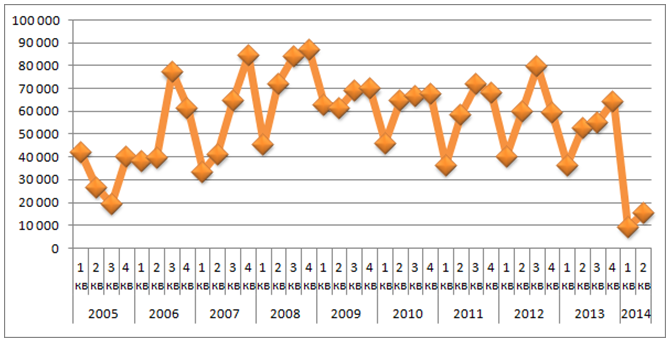 So, following the results of 2013 processing productions were the leaders by volumes of foreign investments attraction — 54,4 billion rubles (in particular, the largest type of activity — "production of electrowelded using flux core welding of pipes" — 1,8 billion rubles), operations with real estate, rent and services rendering — 35,4 billion rubles, and also wholesale and retail trade and vehicles repair — 14,4 billion rubles besides mining branches (here "wholesale trade in construction materials" — 878,3 million rubles was the largest type of activity). It is interesting that investors are also interested in liquid processed milk production where 376,2 billion rubles were directed.
Meanwhile it is necessary to pay attention that foreign investments volume into our country in general for the first half of 2014 are much lower, than for the similar period of the previous year — 72% (or 64,5 billion rubles). In many respects it is connected with foreign policy factors. However it is worth being marked that in the current year foreign funding was received by branches which in the previous two years were not interesting for capital investment of foreign representatives.
So, following the results of the first two quarters of 2014 electricity generation by thermal power plants (about 8,3 billion rubles) was the most attractive branch from the point of view of foreign investors. Thus, during the first half of the current year the amount of the specified branch funding was maximum, compared to the last nine years (since 2005). Besides, glass and products made of glass production and production of plastic products branches were the most interesting for foreign money holders— 1,3 billion rubles and 1,1 billion rubles respectively.
Further foreign investments dynamics directly to our country in many respects depends on terms and the scenario of foreign policy intensity settlement, and also on the nature of the economic situation development.