Other sites holding


Motor Transport Enterprises Worry about High Prices for Fuel and Motor Vehicles
Motor transport enjoys the greatest demand and is the most available way to transport loads to short and middle distances, thanks to its fastness, flexibility of conditions and routes.
At the beginning of 2010 a quarter of surveyed representatives of motor transport enterprises (the total number was 930 organizations) called the situation at their enterprises unfavourable, but during the whole year and the first quarter of 2011 their number reduced. In the second quarter of 2011 again there was a small increase of negative estimates; following a decrease in the share of negative estimates in the third quarter it again started to grow. The growth period continued till the first quarter of 2012; then it was followed by a short decrease, which again was followed by an increase. Starting from the second quarter of 2012 the share of enterprises, which spoke of an unfavourable situation, increased from 13 to 17%, having gone back to the level of the end of 2010 – beginning of 2011.
The share of favourable estimates, which increased by the fourth quarter of 2011 by 3 percentage points to 10%, fluctuated from 8 to 10% in the subsequent periods.
Schedule 1. Dynamics of situation estimates at motor transport enterprises in 2010 - 1 quarter of 2013, % of the total number of the surveyed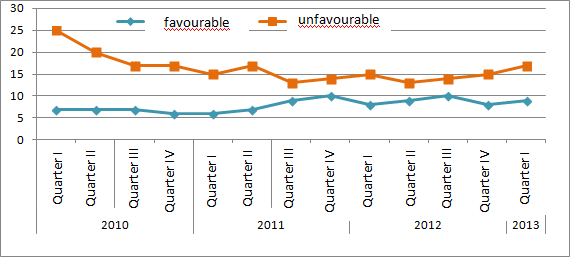 Source: Federal Service of State Statistics
Among factors, named by representatives of organizations as those limiting their activity in the first quarter of 2013, mainly there were economic factors: high prices for fuel (92% of the surveyed), high prices for motor vehicles (80%), a shortage of financing (80%), and a high taxation level (77%).
Entrepreneurs were much less concerned about administrative factors: illegal charges of supervision authorities (19%), difficulties with paper work (23%), a large volume of competitors' illegal business (27%). However, the impact of the given factors on the situation increased: illegal business increased its volume in 2013, going back to the level of 2010, the share of organizations the activity of which was disturbed by illegal charges and difficulties with paper work in 2012-2013 was higher than in 2010-2011.
High competition was an obstacle for a half of the surveyed, the impact of this factor was minimal at the beginning of 2011, when as few as 44% of organizations named it, and maximum in 2010 (57% at the beginning of the year and 54% at the end). One should note, besides, a decrease of the impact of deceptive advertising and inadequate effective demand.
For more information, please, see "Business Plan of a Gas Station (with a Financial Model)" by Intesco Research Group.
The given figures were calculated by analysts of Intesco Research Group based on official statistics.