Other sites holding


Ceramic Brick Market – Going into the Red?
Ceramic brick is traditionally used for constructions of any degree of complexity, industrial structures, household ovens and chimneys. This construction material owes its "multitasking" to such properties as good soundproofing, low moisture permeability, durability and long service life. The brick has these properties because of its high density. It should be noted that ceramic brick is characterized with environmental compatibility, as it does not produce substances harmful for human beings even under the impact of natural factors.
Now there are a lot of various kinds of ceramic bricks – solid, hollow, ashlar, glazed, clinker, firebrick. An equivalent of the common ceramic brick in Russia is a cheaper calcium silicate brick. However, in comparison with the ceramic one, calcium silicate brick has relatively low thermal properties and high moisture absorption properties.
In our country the market of construction ceramic brick is represented mainly by Russian products – the share of import amounts to about 1%. Russian production of the given construction material in 2010-2012 demonstrated a stable growth, which was related to an increase of works volumes by construction enterprises in the recovery period (2010-2011), which caused an increase of consumption of construction materials in construction of buildings and structures. At that, the growth rate in 2012 amounted to 13%. However, 2013 was characterized with the beginning of the stagnation process: the growth rate in relation to the previous year amounted to only 1% – almost all regions of the country demonstrated a decrease of volumes of ceramic brick production (in some regions production volumes decreased by a third).
Schedule. Dynamics of construction ceramic non-fireproof brick production in 2010-2013, million ref. bricks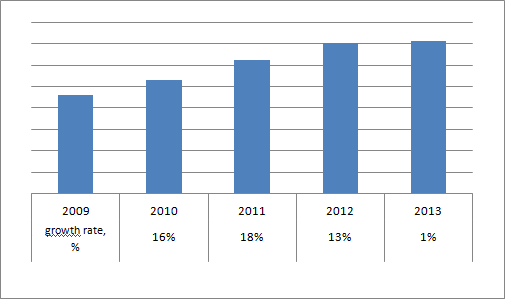 Source: Federal Service of State Statistics, Intesco Research Group
It should be noted that in Russia production of brick is localized. This is explained by high railroad tariff rates, which creates expenditure on delivery of products. Among the regions, Krasnodar Krai, Rostov Region and the Republic of Tatarstan were leaders by the quantity of produced ceramic bricks. In total, the needs of construction sectors of these regions in 2013 demanded about 1.3 billion ref. bricks (with almost equal volumes in the specified regions).
Further development of the region mainly depends on the position of the construction cluster, which is greatly dependent on the economic situation in the country, which recently has been demonstrating instability more frequently.
For more information, please, see "Market of Ceramic Brick. Current Situation and Forecast" by Intesco Research Group.