Other sites holding


Potato Embargo: Russian Potato Import Forecast
Numerous years have passed since potato was considered to be a delicacy in Russia and was affordable only to aristocracy and the noble; nowadays it is eaten in almost every family. Relatively low cost, in combination with good taste and nutritional properties, contributed to its wide spread.
At present, in Russia more than 2 million hectares are given for potato growing, which annually provide people with more than 30 million tons of products – it is twice as much as the total Russian production of all fresh vegetables.
Despite developed potato growing, in 2013 Russia, nevertheless, imported almost 400 thousand tons, which brings it to the second place in the structure of Russian import of fresh vegetables, which has undergone significant changes throughout recent years, repeating a lot the five-year-old figures in 2013.
Nonetheless, relatively low volumes of potato import are influenced not only by large-scale Russian production, but also restrictions for import of products from a number of countries. Potato supplies from the European Union have been almost completely discontinued due to spread of various diseases and impossibility of prompt detection of infected products. Recovery of European potato import can hardly be expected earlier than 2015.
The main supplier, which provides about 20% of the demand for foreign potato, is Egypt. From 50 to 60 thousand tons of products were imported in 2012 from Azerbaijan, Netherlands and China. Owing to a sharp decrease in supplies from Holland and Pakistan, Russia had to look for new suppliers in other countries, which correspondingly reflected on the modern import structure.
As for the expenditure on purchase of imported potatoes, one should mention growth of prices for foreign products in 2013, which, however, did not prevent total expenditure from demonstrating a negative growth rate in relation to 2012 of up to 10%. The basic volume of financial funds, required to cover potato import, is annually accrued to the second quarter, while the given indicator reaches it maximum as early as the third quarter.
Schedule 1 Dynamics of potato import by quarters in monetary terms in 2010-2013*, thousand dollars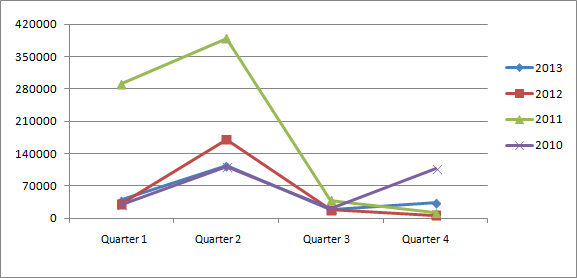 Source: Federal Customs Service, Intesco Research Group
It should be also mentioned that, according to the State program of agriculture development, by 2020 the specific weight of Russian potatoes in the structure of food supplies will amount to almost 100%, while changes in the volumes of Russian one will not exceed 2 million tons. In case the embargo for Pakistan or European products is lifted, one should expect certain diversification in the structure of import simultaneously with a decrease of its total volumes.
For more information, please, see "Market of Fresh Vegetables: Comprehensive Analysis and Forecast till 2016" by Intesco Research Group.