Other sites holding


Trends on Russian Market of Cloud Technologies
The market of cloud technologies develops extremely fast. All over the world enterprises of quite various industries conduct active research of this rather new IT-market component. The volumes of world expenditure on cloud infrastructure are expected to increase by almost 30 billion dollars by results of 2014.
Initially chief managers of companies and departments considered the transfer of a part of business infrastructure to a "cloud" to be, first of all, a way of reducing costs thanks to scalability, arbitrarily unlimited resources, more efficient management with the use of standardization of the services offered, etc. However, realities of modern market are such that more often enterprises prefer cloud solutions, like, by the way, conventional outsourcing, with the aim of improving quality of services offered and products manufactured.
And although both in Russia and the world there are still certain concerns about cloud technologies (for example, issues of data security), the level of trust in it has definitely become higher. New players come to the Russian market — foreign and Russian ones, various projects, related to "clouds" and based on "clouds", are implemented.
As for the volume of cloud computing market in Russia, experts' estimates differ. For example, in 2013 different analytical agencies named figures varying from 6 to 20 billion rubles, which might be explained by differences in research methods used.
It can be expected that forecasts can also vary greatly. On the average, the growth of volumes of the cloud market by 2016 is estimated to be more than 150%.
However, certain regularities still can be seen. For example, experts have the opinion that absolute majority of cloud services is so called SaaS and IaaS, i.e. software as a service and infrastructure as a service. Their share in 2013 amounted to more than 80% of the Russian market. In the nearest years certain development in IaaS segment is expected, which will respectively influence its share in the structure. The given process will take place in parallel to an increase in the share of SaaS. By 2016 their total share will grow and reach 90%.
Schedule 1. Changes in the structure of Russian market of cloud technologies in 2012 - 2014* and forecast till 2016, %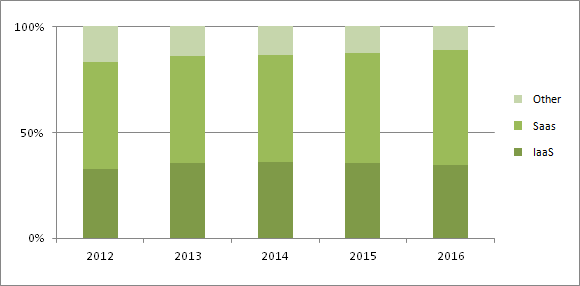 Source: Parallels, J'son&Partners, Orange Business Services, KPI
Russian market of cloud services has just started to form, and its growth rates exceed development rates of IT-industry, on the whole, and similar indices of many mature markets in the world. Such segments as PaaS (platform as a service) and BPaaS (business processes as a service) now develop only abroad; however, when trust of Russian business and authorities rises and cloud computing is extensively used, their integration in the Russian market is inevitable.