Other sites holding


Road Treasure Map: Support of External Economic Activities of Small and Medium-Size Business Entities
Small and medium-size business, the number of representatives of which in Russia was over 2 million in 2012, is an integral component of every country's economy, and harmonious development of an efficient economic system is impossible without support of representatives of these groups. Among other things, it is extremely important to expand the areas of presence and volumes of Russian supplies to foreign markets, including products of small and medium-size businesses.
However, businessmen can hardly always enter international markets on their own by a whole number of such reasons as presence of customs, fiscal and administrative barriers; restricted access to financial funds; costs related to promotion of goods; knowing nothing of peculiarities of foreign markets and others.
A number of documents were drawn to solve these problems, for example, the Subprogram "Development of small and medium-size business" of the State program "Economic development and innovative economy", in which the Ministry of Economic Development planned to establish, in total, more than two hundred objects of small and medium-size business support infrastructure, which include business incubators, industrial parks, technoparks, centres of competences. It is planned to spend almost 100 billion rubles on implementation of the measures provided by the Subprogram for the period of 2013 – 2015.
Schedule 1 Total number of established objects of small and medium-size business support infrastructure in 2013 - 2015, units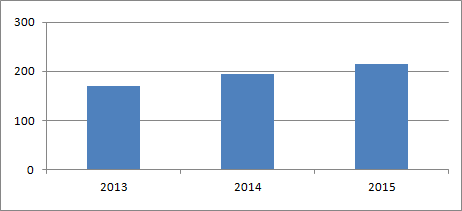 Source: Order of the Government of RF of 20.07.2013 N 1260-р, Intesco Research Group
Besides, the so called road map is being implemented – Plan of events "Support of access to markets of foreign countries and export promotion". Mechanisms of financing of enterprises are controlled by the Federal financial program of support of small and medium-size business (Regulation of the Government of RF №178).
It also should be noted that, in its activities along the given directions, the Ministry of Economic Development does not limit oneself to its own developments, it refers to experience of other countries. For example, there was a seminar for managers of regional centres for export promotion in 2013, where, among other things, they examined the best practices of support of external economic activities of small and medium-size enterprises of Brazil, Great Britain and the USA.
However, it is early to speak of any positive effect, even if the Assistant to President has some doubts about the effectiveness of implemented measures: "Where is export promotion? EXIAR is in operation, but where are the other mechanisms? At present, there are also trade offices. Where is credit support? <…> How many guarantees have been provided to small business in reality?"
Earlier the President himself spoke of ineffectiveness of export promotion. At the time it was told about almost complete unavailability of mechanisms for developing export for small and medium-size business. In February of 2014 the given problem was again raised by the Chairman of the Government, with accentuation on the need in modernizing of the existing structure of promotion of non-resource export.