Other sites holding


IT industry development in regions
The Government of the Russian Federation set the strategic task for IT industry: to replace the foreign software by the domestic PS, and to prepare up to 1 million IT specialists in the medium-term prospect. Such a decision was expected both from the point of view of personnel, and from the point of view of technological safety. According to statements of the Minister of Telecom and Mass Communications, the Russian software developers occupy only 1,4% of their total in the world at the moment. The USA, India and China are the leaders by this parameter.
Diagram. Shares of the largest countries and Russia by the number of software developers in the world, %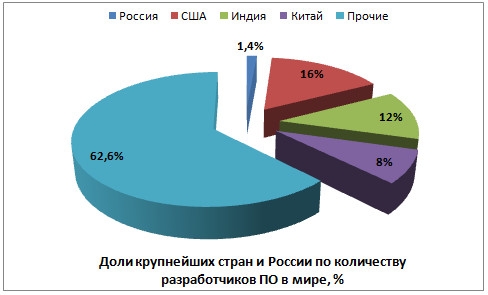 Source: Intesco Research Group, Ministry of mass media and communications of RF
IT sphere in regions of Russia began to be financed actively by the federal budget in recent years. Thus, in 2014 most of all funds were aimed at the information and communication technologies development in Moscow and St. Petersburg, and the Moscow budget exceeded Petersburg almost 4 times. Khabarovsk Territory and Khanty-Mansiysk Autonomous Territory were also among the top regions, and the position of Khabarovsk Territory shows the political and economic activity strengthening of Russia in the eastern direction.
The indicative region from the point of view of the considered branch development is Tatarstan. The satellite town of Kazan – the innovative science city of Innopolis is under construction on its territory, and on the scale of possible investments it is possible to compare it only with Skolkovo - innovative Moscow region center. The IT university, the main objective of which is training of qualified specialists in the IT sphere has to become the city-forming element of the project. It should be marked that since 2009 in the Republic "IT park" the technopark in the sphere of information and communication technologies operates and business-incubator is created on its base intended for the start-ups development. Besides Tatarstan technoparks, activity of which is associated with high-tech branches development, are founded in a range of Russian regions, focused on the own innovative development.
In general, IT branch of Russia should develop actively in any case – following the world trends or advancing them. Branch investments today are directed, primarily, at education and personnel and it is the most effective way of quality changes. Branch investments today are directed at education and personnel, and this is, undoubtedly, the most effective way of quality changes.. Because as you know, «cadres are all important!».