Other sites holding


Geomarketing solution of the commercial real estate market problems
The geomarketing products market today solves the problems of trade and service objects placement and functioning. The market of commercial real estate grows with very high rates: in post-crisis 2011-2013 rates of commercial objects commissioning growth were equal to 13-21%. While the dynamics of all buildings commissioning growth in the Russian Federation during the same period was negative, and the maximum was equal to 7%.
In 2014 commercial real estate commissioning slowed down the growth as investment activity considerably decreased that is in its turn was connected with slightly complicated geopolitical situation in the country.
Schedule 1. Number of commissioned commercial buildings in Russia in 2000–2014 *, one thousand units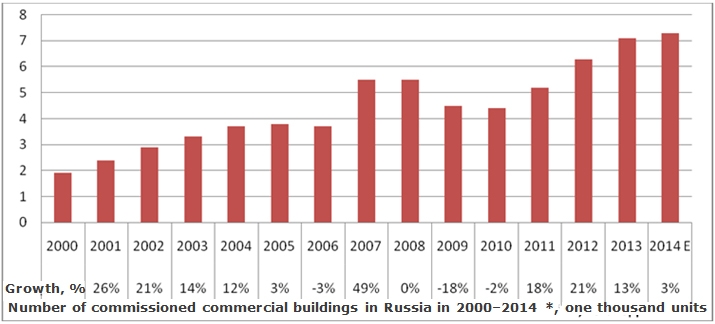 Source: Federal State Statistics Service
The most extensive and large-scale group of commercial buildings are shopping centers, their number grows more and more in megalopolises of our country, as a result, the competition for the consumer grows. Its attendance and profitability of business began to depend on the object location, its territorial availability to the population. Still the independence of the place could be kept by the few objects and first of all due to unique offers, goods and trade and service formats.
Researches on the joint of marketing and geography, first of all, would be interesting to the outlets offering goods and services of continuous use: these are grocery supermarkets, drugstores, hairdressing salons, shops of daily demand goods, objects of public catering, gas stations.
Thus, geomarketing becomes one more expenditure point when opening a new business or optimization of the existing one and its cost and scales depend on estimated investments and scales of the project. So, if opening of a small commercial object, for example, one or several dry-cleaners is planned, it is possible to be limited by small research of the area and the local consumer market. In case when a large commercial object commissioning is planned, complex geomarket research with forecasting of future clients flow is necessary. It should be marked that large retailers, banks, telecom operators use geomarketing products on a constant basis and, as a rule, have internal personnel for such questions solution. It turns out that until recently geomarket researches were the advantage of large market players of the commercial real estate, however now such tools are available even for small trade and service objects. And only the businessman chooses already should he use them or rely on the intuition.