Other sites holding


Multi-Model Approach to Mass Evaluation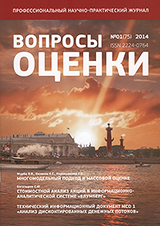 The research and practice magazine «Evaluation Issues» published the article «Multi-Model Approach to Mass Evaluation», written by KPI Holding representatives: Viktor Zhurba, Egor Kizyakin and Evgeny Kornoushenko.
The article specifies a new approach to mass evaluation characterized with transfer from common use of one evaluation model to use of several ones, as well as inclusion in the mass evaluation procedure of stages in classification and verification of mass evaluation results. The verification stage is extremely important in practical sense, as it enables judging about credibility of the conducted evaluation.
The article is intended, primarily, for assessor-analysts specializing in the field of mass evaluation. It can also be used for assessors interested in applicability of classification methods in mass evaluation.
The article is especially relevant at present in connection with the need in actualization of methodical support of state cadastral evaluation planned for the end of 2014.
V.V. Zhurba, E.S. Kizyakin, E.K. Kornoushenko. Multi-model approach to mass evaluation // Evaluation Issues. 2014. №01(75). ISSN 2224-0764.