Other sites holding


Market of Mini-Confectionaries in Russian Towns
Muffins, doughnuts, eclairs, croissants… Russian market of baked food in large cities starts to be concentrated in mini-confectionaries. Not only European culinary traditions, but also consumption traditions are being adopted. Metropolitan cities are an ideal option for development of market of specialized confectionaries, where one can have a cup of coffee and taste baked food. Moscow, by results of three quarters of 2013, was a leader among Russian regions by the volume of retail sales. Its share amounted to 17.5% of the total profit from sales of confectionery products. An interesting fact is that St. Petersburg has not become one of the three leading regions, but become the fourth one, with the share of 3.3%.
Diagram. Regional structure of retail sales of confectionary products in money terms during 9 months of 2013, %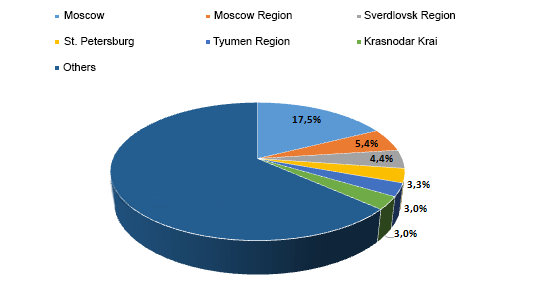 Regional structure of retail sales of confectionary products in money terms during 9 months of 2013, %
Source: Federal State Statistics Service, Intesco Research Group
In Moscow, St. Petersburg there are quite many chain establishments, and the competition for the consumer is high, while the market in regions is rather unconsolidated. Mini-bakeries, boulangeries, pastry-shops experience a new birth following the USSR collapse. Here the consumer should again be acquainted with the tradition of drinking tea and having a doughnut. An interesting marketing vehicle for attracting people of older generation is opening a confectionary at the place where previously there was one of the kind.
However, the fast-growing consumer market of Russia cannot be attractive to metropolitan cities only. For example, one of the largest players of now Russian market of bakeries and confectionaries is the Cinnabon bakery. As of the beginning of 2013, there were 95 in Russia, and by the beginning of 2014 owners of master-franchise "Cinnabon Russia" forecasted increasing of the chain up to 140–145 establishments. Such a global expansion onto regional markets among the format of bakeries and confectionaries has never been observed.
Mini-confectionaries in the form of bakeries, cafes and pastry-shops have potential of development even in towns with population of 100 ths. people and more. If a town has a centre of attraction such as a trade-centre, theatre, cinema, if youth culture is developed and there are higher educational establishments, the population will be able to meet the demand of at least one confectionary. Therefore, even Russian players, who develop and feel fine in Moscow and St. Petersburg, should not be afraid of going to regions. Orienting at income of the population in this or that town, it is necessary to develop the tradition of consumption of baked products in the modern Russian format, maybe, with a flavour of "European refinement" or "American generosity".
You can read detailed information in the research report «Business Plan of a Confectionary (with the Financial Model)» by Intesco Research Group.
The given values were calculated by analysts of Intesco Research Group on the basis of official statistics.