Other sites holding


Special. Economic. Yours. Development Prospects of Special Economic Zones in Russia
Recently special economic zones (SEZ) have stopped being projects intended for promoting development of certain industries and directions, having harmonically transformed into tools of general economic growth both of regions and the whole country. As of the beginning of 2014 there were 370 companies, residents of SEZ, in Russia, the declared investment volume in which amounted to 430 billion rubles.
Despite the fact that creation and development of SEZ system in Russia have already borne fruit (though to a lesser degree than that expected at the moment of their establishment), one should understand that at the given stage this institution has only started to form. Russia is not ready to fully compete with other countries yet, as current tax preferences, legal regulation, infrastructure of special economic zones, like the number of sites themselves, do not meet the level established by world leaders.
Nevertheless, SEZ continue to operate and develop. For example, in the period of 2010-2013 the number of tenders conducted by different zones tripled, while during the first five months of 2014 more than 50 tenders for the total sum of 1.2 billion rubles have already been conducted.
Schedule 1. Dynamics of the number of tenders conducted by Russian SEZ in 2010–2013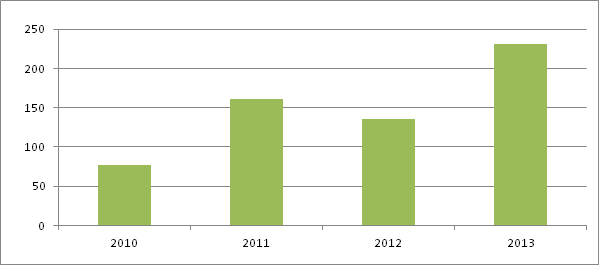 Source: JSC "Special Economic Zones", KPI
Certainly, besides the obstacles and difficulties overcome earlier on the way of development of special economic zones, there will be new obstacles to face. For example, Russia's entry to WTO, as a result of which restrictions will be imposed on a number of promotion and stimulation measures, which will lead to the need of harmonizing Russian legislature regulations with provisions of this organization. However, such changes will hardly influence basics of SEZ operation; more probably, their nature will be formal and will affect residents' interests to the minimum.
One should note that, according to the research "Special economic zones: experience and prospects", conducted by RSPP, legal issues of regulating activities of special economic zones, as well as the associated bureaucratic barriers were unanimously named by representatives of regions, managing companies and residents of SEZ as the most relevant. Thus, Russian legislators should seriously think of possible ways to improve the legal environment, in which Russian special economic zones exist.