Other sites holding


Moscow That is Tasty, Fast, Various
Russian citizens are used to cooking and eating at home, which is proven by rather low figures of expenditure on eating out of the total expenditure. In Russia about 3.3% of household expenditure is allocated for these purposes. However, there are countries where this figure is even lower, for example, in Moldavia it is only 0.4%, while in Rumania and Serbia – 1.3% and 2%, respectively.
At the same time, according to RIA Rating, the largest share of expenditure on HoReCa in the structure of families' expenditure is observed in Portugal (10.4%), Great Britain (10%), Greece (9.8%) and Spain (8.7%). The habit of Greek, Spanish citizens to spend their free time in cafes and bars is already so deep-rooted that, irrespective of the level of life of the local population and even crisis phenomena in the country's economy, the culture of eating out remains.
In Russia the highest index of expenditure on eating out is conventionally concentrated in Moscow. In 2003-2013 there was a stepwise dynamics of expenditure on eating out among Muscovites in per cents of their total income. For example, in 2013 the figure reached its maximum – 6.8%, although in 2011 it was equal to 4.5%. The lowest level was observed in 2008 and 2003 – 3.2%.
Schedule 1. Share of expenditure of Muscovites on eating out in 2003-2013*, %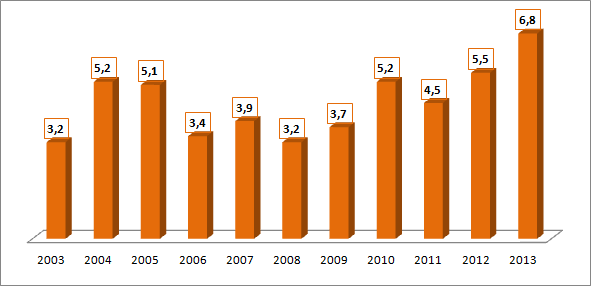 Source: Moscow Government Portal, Mosgorstat
Such a great difference in expenditure on eating out is explained by differences in income and lifestyle of Muscovites. In the capital people spend a lot of time at work and less at home. Taking into account high transport dependence, often the majority of employed population has no opportunity of cooking at home. A half of people who visit cafes and restaurants go there during a lunch break (business lunch), and a half – in the evening.
There are more and more gastronomic offers; it's interesting that home cooking acquires greater popularity and even most sophisticated consumers, at times, prefer it to restaurant delicacies. Moscow, being a city open for everything new, mixes and offers absolutely different formats of cuisines: Pan-Asian, African, Arabic, Kazakh, etc. as an experiment, molecular cuisine. The latter is rather a fashionable trend of modern gastronomy, yet it has quite a number of enthusiasts. As a rule, entering the Russian market through Moscow, new directions gradually spread to other megalopolises of the country as well.
For more information, please, read "Market of Fast Food: Comprehensive Analysis and Forecast till 2016" by Intesco Research Group.