Other sites holding


How does Russian consumers behavior change with e-commerce development
During the past four years, dynamics of retail trade turnover of Russia is characterized by a positive trend while the rate of growth decreased in contrary. Thus, in 2011 the parameter increased by 16%, and the expected rate of growth in 2014 amounts to 9% (according to Intesco Research Group analysts, retail trade turnover in 2014 exceeds 25 000 billion rubles). At the same time, the market share in total retail trade amounts to 2%.
Schedule. Retail trade turnover in Russia in 2010-2014*, billion rubles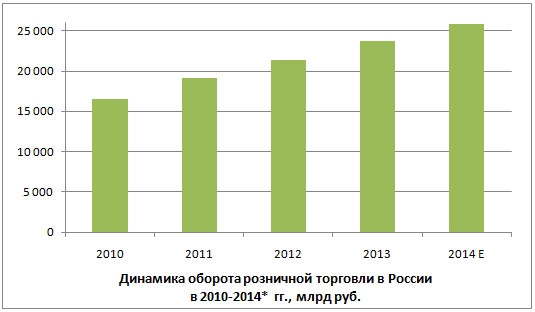 Source: Federal State Statistics Service; ntescoResearchGroup
*estimated value
Recently more and more retail trade companies increase the share on the Internet for the purpose of bigger number of clients attraction and their loyalty increase. Consumers, in their turn, are setting tendencies, on the one hand, and, adapting for new conditions, on the other, gradually change the behavior. On the New Year's eve holidays many people address to the Internet searching for the gift ideas, besides making purchases. If we do not take into account individual features of the gift recipient, so this approach could be very efficient. Thus, according to the results of Deloitte it was revealed that men prefer to get a smartphone or money, while women count on travels and money receipt. In this case, the question is whether they want to get rubles of another currency.
Some consumers mark that it is more profitable to buy online. That is why due to general adverse economic situation in Russia a slight shift from traditional stores to e-commerce is expected. During the New Year's Eve period, the population is pushed to increase the demand by the inflation expectations in the next year, in addition to the main purpose – gifts purchase.
The registered parameters are calculated by the analysts of Intesco Research Group based on official statistics.